Subscribe By Text / SMS Now Available for Your Lists – And You'll Love the Price
Every FeedBlitz email publisher now has access to a free, configurable, subscribe-by-text capability.
Yeah, we did that. Because we love to see our publishers be successful and grow. Because we want using this to be a no-brainer.
With many publishers doing in-person events, seminars, streaming videos, webcasts and more, we wanted to find a way to simplify the subscription process and make it more immediate. Rather than ask people to subscribe to a URL, you can simply have them text a code you define to the FeedBlitz subscribe by text number, and they can subscribe from their phones. It's easy to start, fast to finish, and a fabulous call to action for any slide, periscope or talk you give.
And yes: It's completely free to anyone with a FeedBlitz list. Other standalone services charge $19 a month for just this text subscription service. You get it here at FeedBlitz as part of the package, even if you're a legacy user, or paying us our $1.49 minimum, or in a trial.
Easy Setup
We've already created a set of default codes for every list in FeedBlitz, to get you started.
To see them, click into the Subscribe-By-Text Builder on your list or autoresponder's dashboard. You'll see something like the screen below: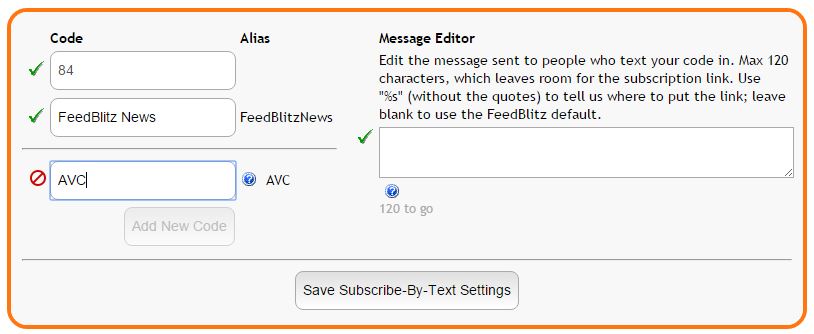 There's one numeric code – that is your list ID; you can't edit that. Otherwise, you can change the codes already assigned to you by editing them here. You might want to make them make more sense from a human perspective, for example; add punctuation, better reflect your brand, or reflect a specific campaign / event. You can tell if they're OK by the little icon.
You can also add as many new codes as you like, too. When one you want is available, click the "Add New Code" button; it goes live when the whole form is saved. So in the screenshot above, I'm trying to add "AVC" – but that code's already taken.
You can even customize the text message FeedBlitz first sends to people texting in your codes.
Try Subscribe-by-Text Today
Super simple, easy to set up, instant gratification for you and your audience. What's not to like? Give it a try!
P.S. It also works internationally!