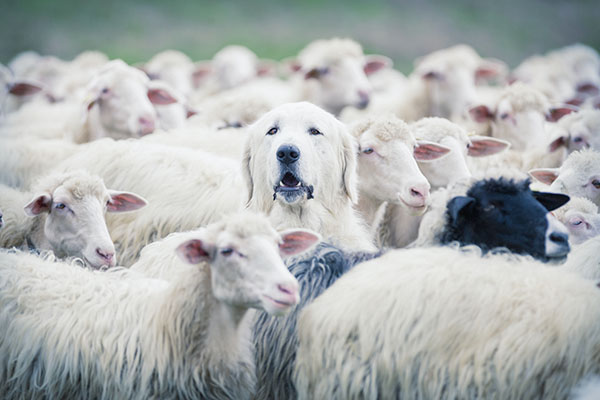 You're posting great content regularly, you're enthusiastically promoting your site on all the top social channels, while diligently reading and following all the How to Blog Like a Rock Star articles and checklists you can find and yet…. your emails have low open rates, even lower click-through rates. Your list ought to be growing – but you can't be sure as you seem to be losing subscribers as quickly as you gain them, and there's not a lot of social sharing happening for your posts or emails.
This cycle can leave you feeling exhausted, defeated, and wondering if any of this is even working! You begin to doubt yourself as a leading figure in your craft, an expert in your field, perhaps even your basic knowledge on the subject. Nobody seems to care. You're casting such a wide net and doing everything under the sun possible, how could things not be going better than they are?
Breathe. Pause for a moment, because there is your answer – you're casting such a wide net. You're not trying to reach your audience; you're trying to reach everyone's audience.
Speaking to Someone, Not Just Anyone
This is a common misstep when it comes content marketing and blogging, believing that trying to reach as many people as earthly possibly and relating your content, service or product to anyone who could possibly be reading is the best way to grow.
Take a step back and look at what is truly happening when casting such a wide net:
Your content is filled with generic terms and language to appeal to everyone.
Your time is divided between a plethora of social channels trying to promote everywhere possible.
You're building a list of subscribers ranging from semi-interested to somewhat-interested to possibly super-interested (but you aren't quite sure), instead of a list of people who are expressly interested in your scope of content.
Imagine creating content as if you were speaking directly to your ideal reader or client. You need not worry about everyone and everything else as you're able to block them from your thoughts and focus on only that one person. You would be more genuine and authentic, your language would be better defined, your subscriber list would be full of people interested in what you have to say, and your email metrics would improve as a result.
This way of thinking can be an adjustment, but the transition is not impossible. Start by finding your audience, then adjust the net you're casting. Everything else? Just noise. Junk it.
Finding Your Audience
Once you decide to speak to your people, you'll begin to see open rates, subscription rates, and click-through rates increase. Your content will be more focused, and your language will match that which they speak. To get started in finding your audience, ask yourself these questions:
What do I know about my ideal reader? Write out everything you can about them. Their estimated age, occupation, relationship status, what their possible hobbies are, what are their annoyances, what do they get excited about, and so on. Make note of anything you can think about your reader. This is called developing your reader (or client) persona. Some sites will be extremely specific and have 1-2 personas, while others may have 3-4 personas (we at FeedBlitz have 4 core personas, in case you're wondering).
Where else on the internet do my readers hang out? Once you have a clear picture of who your ideal reader or client is, you'll be able to find out where else on the internet they spend their time. What websites do they follow? Could you offer a guest post to one of these websites? Are they active on forums? If so, which ones? Create an account and participate in the discussions, offering answers and insight.
What social channels are they using the most? This can be a HUGE time saver for you. If it turns out your audience is more focused on LinkedIn and Facebook, focus more time and energy here as opposed to Snapchat or Pinterest. Knowing this can also show you which channels you need to invest more knowledge into learning, instead of expending so much energy trying to cover your bases on every.single.social.channel.
These questions are a starting point for you to find your audience. Once you know where they are, you can then focus on ways to promote your content directly to these individuals in the manner which they prefer most.
Bonus Tip: Start by surveying your current readership and subscribers. Draft a simple online survey with some of the questions above and ask your readers to complete it. This will give you a good look at who is currently interested in your content, and offer a starting point for seeking out new subscribers in your audience.

*Offering an incentive for completing the survey such as a discount code or free pdf download is a great way to encourage subscribers and readers to answer your questions.
Focusing on What Matters
Don't worry about casting the largest net, concern yourself with casting the right net and watch your metrics start to increase. No more wondering if your content marketing and blogging are working. Rest easy knowing your focus is on those who are already interested in your content to start, focus on creating high-quality, valuable content which provides a solution to their problems, sit back and watch your metrics rise to new heights.
If you have questions on finding your target audience or anything else related to email marketing, simply send our team an email to support@feedblitz.com. You can also chat, check out our Help Forum, or give us a call at 1.877.692.5489. Our Support and Sales Desk is available Monday – Friday from 9 am to 5 pm EST.